In this picture, I am looking all businessy…
…but the truth is that I prefer jeans and a t-shirt to a suit and tie.
In short: I am a single father of two, the director of C Point Pty Ltd, and I am generally a good guy.
On Getting Your Own TV Channel on Roku
It took the team and me 12 months of development to fully implement the first version of the Inspire.Vision iTV platform (now in v2) for launching and managing your own TV channel – without the technical headaches, without hiring the content-creation crew, and at the price of a cup of coffee a day. It's my biggest project to-date and I am proud of it.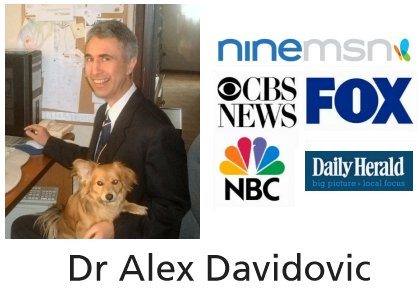 On Uni Degrees
I have a B. A. in English Literature, B. Sc. (Hons) in Computer Science, and Ph.D. in Computer and Information Science from the University of South Australia (UNISA). Well, having one or more uni degrees does not necessarily make one an educated person – but it definitely makes finding a job easier 🙂
My doctorate was on the adaptive tutoring systems – which greatly helps when designing the easy-to-use interfaces, like the one for your TV channel (which is easier than having a YouTube channel!). While I was lecturing at the university I was also involved in medical computing, high-integrity systems, functional programming, and electronic commerce.
You see, when I was a kid my father told me that to keep my life interesting I should be changing either jobs or women. Believe me, it is much easier to change jobs, which is probably why I am interested in so many things, too many in fact. Why too many? Because your eye is no longer on the ball, your energy is no longer focused, and this stops you from getting to the very top in one chosen discipline. Being pulled in too many directions is my main weakness.
Having too many interests is not practical – but it makes life more fun.
On Marriage and Relationships
In my relationships I am faithful to the core, and I was married for 16 years before my wife got tired of me. What can you do…
Two years after the divorce I had a serious relationship with a lovely lady, somewhat younger than myself, and nearly got married again, but it was not to be. Ah, to cut a long story short I've been single for so long that I probably no longer present a good value for the opposite sex… but I am hopeful… and I don't give up.
My son and daughter are great… OK, they're my children, but they truly are absolutely fantastic. I am also lucky to have really wonderful friends. Let's not forget Buffy (the Vampire Slayer), my spirited Pomeranian x Chihuahua, who provided the inspiration for the 'underdog' in my 4th book, Underdog Marketing.
On Success and Representing Your Country in the Olympiads
Success comes in many forms. You are a success if your family and friends love you and respect you; if you save a life; if you find a cure for a disease; if you create wealth; if you win at Wimbledon, if you beat an addiction…
The list is endless and very relative – we all define success in terms of what is important to us.
The success of others is also truly uplifting, like the wins of kids whom I teach to play chess. Being a chess player myself, in 1987 I was awarded the title of the International Chess Master; winning games and tournaments felt great; holding a trophy with a money-prize in my pocket felt great…
…but the feeling of representing Australia in two Chess Olympiads, in Manila (Philippines) in 1992 and Elista (Kalmykia) in 1998, now that's something hard to compete with. In two Olympiads I played the total of 20 games and only lost one, either winning or drawing all other games.
If you'd like to see a good fight, here are few selected games:
I represented Australia at one more occasion – in a business-building competition of all things.
In 1997 our 4-member Australian UNISA team qualified to go to United States, for the finals of the EDS Business Case Challenge in Plano, Texas. EDS, which is an enormous company, is organizing these unofficial business-case world championships as means of recruiting their top personnel.
My team built a powerful business case and went as far as semi-finals before being outwitted by Carnegie Mellon University.
On Music
Where would we be without music? Music is the big part of my life, and when I relax from the business side of things, I love to pick up my guitar and play a tune or two.
I am the co-author (with professor Milan) of 15 books for the acoustic guitar, classic fingerstyle – you'll find them on Amazon, just do a search for 'Dr Alex Davidovic'.
On Mistakes
I'd like to be able to tell you I am a genius creating instant success stories – but the truth is, I make more mistakes than many. Here are two that are stuck in my memory:
Spending too much time in front of the screen
When I get 'in the zone', before you know it the hours just vanish.
Trying to do everything myself
"If you want something done right, do it yourself!" Have you heard this one before? It's a terrible piece of advice. The truth is that you get far only with the help of other people – but I was slow to realize it! It took me years and several burnouts to overcome the madness of trying to do everything myself.
Everyone needs family, mentors, role models, peer support and experts – and with their help, anything is possible!
On Other Things I Love to Do
I also love spending time with my family and friends, beach-going, sailing, tennis, snow-skiing, having a karate work-out (I have a brown belt, which means that black belts are still kicking my ass, but not for much longer), playing games, writing, traveling…
…or sometimes just quietly listening to the music and reading.
Getting in Touch with Me