What we do: help individuals and business launch and manage their TV channel on Roku – without the technical headaches, without the production crew, and at the price of a cup of coffee a day.
I wish all folks doing business on the web were as responsive and helpful as you've been.
Since using your programs we have found so many interesting ways to use it, and it is very simple and easy to understand, especially for newbies like us.
Your product line has got to be one of the best deals around. Keep up the great work.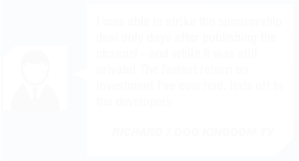 Dr Alex Davidovic
The Master Yoda of Programming

Vladimir Krpan
The Magus of Video Creation


Diana Davidovic
The Queen of Marketing


Brian Savic
Video Production and Affiliate Manager
C Point Pty Ltd
Australian Company Number (ABN): 085 516 552
Australian Business Number (ABN): 48085 516552
11 Pankala Road
Para Hills 5096, Adelaide, Australia

Jason Elliott
The Not-so-evil C++ Genius


Brane Nikolic
Web-design Wizard
Steve Walsh
The King of Content

Tia Terrence
The Queen of Content
C Point specializes in the software for launching and managing TV channels on Roku, the world's leading provider of on-demand TV. Our and our clients' public TV channels appear alongside the giants such as Netflix, Disney and Hulu Plus.
The viewers of Roku channels come from US (90%), UK, Canada and Mexico (collectively 8%) and the rest of the world (2%). 26 million US viewers watch TV channels on Roku every day.
Regardless of whereabouts in the world you are, launching your own TV channel gets you in front of the US audience – and we're here to help you every step of the way.