3 Main Ways to Monetize Your TV Channel
Start with TV Advertising, then Add Other Methods
TV Advertising

Sponsorship

Infomercials
Companies pay for TV advertising more than for all other media combined. What's more, unlike pay-per-click advertising, you get paid every time the ad is shown.
6 Ways to Monetize Your TV Channel (live Hangout recording)
In this half-an-hour hangout, we revisit the 3 key methods of monetizing your TV channel on Roku, and discuss 3 more, which are often overlooked.
From Monetization – to Implementation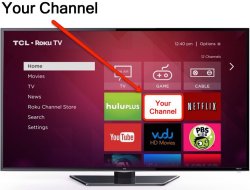 Learn How To Get Your Own TV Channel On Roku
For the first time ever, you can get your own TV channel - without any technical hustles, without the production crew, and at the prize of a cup of coffee a day. Enter your best email below to get your Free Download to:
Access 26 million US viewers
Get revenue only TV can offer
How to Get Free content
Bonus 4-part video training
* we never share your details with third parties.
.