Knowing Your Audience and Your Numbers
To be able to connect with your audience, you need to know who they are, where do they come from, and what is it exactly that they're interested in.
Knowing the stats of your TV channel is also essential for getting an advertising deal. To be convincing, supply the following information to the prospective advertisers:
The Number of Accounts Installed
Your Roku account shows this information.
The Ratings
Get the number of ratings and the star-average from Roku search.
Demographics Data
All demographics data is supplied by your connected Quantcast account, including:
Unique viewers, visits, installs and upgrades
Daily / weekly/ monthly charts of US and worldwide viewers
Male / female breakdown
Viewers' age
Whether your viewers have or do not have children
Income level
Education
Ethnicity
Audience interests, and
The breakdown by country.
All this information you see inside of your Roku account (the number of installations, the number of reviews and ratings), and from Quantcast (demographic data), which is fully integrated into the application that the C Point team compiles and packages for you to power your TV channel.
3 Main Reasons to Know Your Numbers
To connect with your audience

To supply to advertisers

To keep track of your revenue, and keep improving it
By logging into your free Quantcast account, you have full access to all the demographics data and charts. It empowers your decision-making, tells the story about your audience, and provides you with the crucial information for the advertisers and channel sponsors.
Getting Your TV Channel on Roku – Overview (Webinar Recording)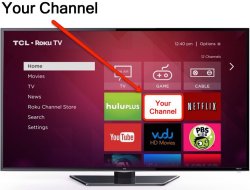 Learn How To Get Your Own TV Channel On Roku
For the first time ever, you can get your own TV channel - without any technical hustles, without the production crew, and at the prize of a cup of coffee a day. Enter your best email below to get your Free Download to:
Access 26 million US viewers
Get revenue only TV can offer
How to Get Free content
Bonus 4-part video training
* we never share your details with third parties.