C Point Master Developers Present: New Plugin to Speedup Your WordPress Site
and Stop Visitors from Bouncing off Due to Slow Page Loads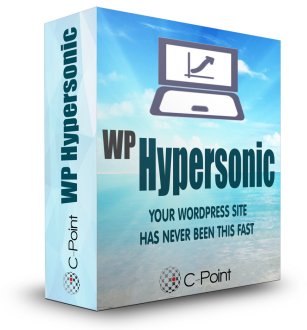 Slow Websites
Lose Visitors and Search Rankings
WP Hypersonic combines 8 high-performance methods
to load your WordPress pages at Unprecedented Speed
6 Top Reasons People Leave Your Website
Does it frustrate you when the visitors to your website bounce off without bothering to find out much about you and what you're offering?

It might come as a surprise to learn that the # reason why people leave your website is:


Not intrusive advertising

Not unrelated content or even poor quality content

Not lousy grammar and spelling mistakes
By the wide margin, the #1 reason why people leave is the slow page load time.
"Aggressive Advertising!"
"Bad Grammar / Spelling!"
Have you ever heard someone say 'I just love slow web pages'? That's because nobody does. If the site is slow to load, people give up and leave - it's as simple as that…
Are you losing customers because of slow page loads?
If you ever lost a potential customer because of this, trust me I've been there. The low point for me was the astonishing 85% bounce rate simply because of the slow page load.

There's nothing more soul-destroying than knowing that you can help people solve the problem that they have, but they don't stick around long enough to know that.

That leaves you feeling truly negative and frustrated.

Now let's get to the root of the problem. With time, you website gains more visitors, more pages, more images, more plugins… and it starts to slow down.
Does server-side caching help?
To speed up their site, most owners of WordPress sites look at caching plugins as a solution, such as WP Super Cache or W3 Total Cache.

In a nutshell, what caching plugins do is make a static copies of your dynamic WordPress pages to reduce the server rendering times.

Do they help? Yes, to a degree, especially if you're not scared of going through 16 pages of configuration options that come with a plugin like W3 Total Cache…

...but apart from the configuration headaches, caching plugins can only get you so far, and they take up lots of disk space and often to not reflect the changed to the pages properly until the cache has been updated.

8 Things WP Hypersonic does to Give Your Site
the Speed Like Never Before

Long-term Browser Caching
Storing temporary data on your visitors' browsers means that they don't have to download the assets twice as they move from page to page.

You can elect to store the assets long-term, up to a year or even longer.
Compressing of your HTML, JavaScript, and Style Sheets before sending them over drastically reduces the transfer time since the files are much smaller.



Minifying removes the whitespace from scripts and stylesheets, turning them into the tiny versions of the original files, while preserving the originals for safekeeping.

Combining of scripts and style sheets dramatically reduces the number of server requests.



Moving from Header to Footer
Moving some of the files from the header into the footer allows the page to start rendering sooner.

By protecting the login page, comments, trackbacks and pingbacks against bots, the number of server requests gets reduced, minimizing the CPU usage, and making your site both faster and safer.


Restricting the search spiders from crawling the system areas of your site further reduces the number of server requests, and further minimizes the CPU usage

Disabling of Unused WP Areas
Disabling the loading of 7 WordPress areas that are not in use eliminates the unnecessary sending of a big chunk of data.


How do I speed up my WordPress site: the case study
Watch the video below of the case study of how we managed to speed up the large, slow website and get the pages to start rendering in just 1.88 seconds (before: 10.39 seconds).


Outcome: the combined effect of 8 high-performance methods allows WP Hypersonic to speed up your website to the degree that no other tool can match.
Choose Your WP Hypersonic License
To check the performance of WP Hypersonic, we went for the hardest test we could think of, improving the loading of our main site c-point.com, with no shortage of plugins and thousands of daily visitors. We took the measurements before and after WP Hypersonic was activated.

Here's the 'Before':

...and here's the 'After':

The improvements we've recorded are phenomenal:
Before, it took the page 10.39 seconds to start rendering, now 1.88

The number of server requests went down from 159 to 62

Bytes being transferred went down from 7.5MB to 1.9MB

Repeat viewing previously took 2,589 KB and now only 314 KB
This is what WP Hypersonic is going to do for you...
Reduce the number of server requests

Reduce CPU usage

Reduce the amount of data being sent through

Make WordPress leaner

Make your site safer

Save on bandwidth

...and ultimately speed up your site - dramatically.
What are Customers Saying?

The early response to WP Hypersonic has been phenomenal, this is just a taste of what people are already saying about it:
"I got your plugin in the last ditch effort to avoid moving my site to a VPN. It speeds my site far beyond my expectations. ...I almost did not buy it because it is priced too low."
Elli Bayer
Internet Entrepreneur
"...your video is too technical for me... and I do not quite get the inner workings of this plugin, but my site is now much much much faster. Thank you!"
Isabelle Lewerenz
Delicious Homemade Recepes
"WP Hypersonic is a gem… I am putting it on all my sites"
Kay Davison
Realtor
"My home page is rendering in 2.5sec... this was NEVER the case before..."
Clive Taylor Corra
Designer / Webmaster
Low Price, High Performance!
This plugin super-charges the performance of your WordPress sites and ultimately brings you more customers because all the people who otherwise would have bounced off and left will now stay and listen to what you have to offer. If you were to use cloud services to speed up your site, it would cost you the minimum of $20 per month to $200 per month for a business site, or even more for the enterprise solutions.

By comparison, for the launch we have the special price of only $17 for the single-site license.

The reason WP Hypersonic is there is to help people who desperately want their site to be fast but just can't afford dedicated hosting or CloudFlare-type services.

So, save you money, stop losing customers because your site is too slow, and speed it up big-time, while the launch is on you get WP Hypersonic for the one-time investment of just $17 - just click on the Buy Now button below.
Choose Your WP Hypersonic License
Special Bonus You Get Today
WP Hypersonic Lifetime Upgrades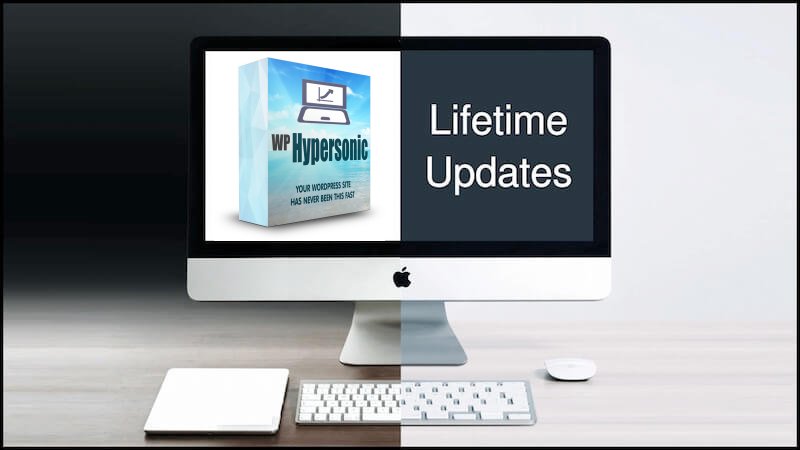 Software developers often have the low fee to get you to buy and then charge you a lot more for every upgrade or through a subscription...

...but in this case: no subscriptions of any kind, no charging for upgrades ever, with the Lifetime Upgrades license you'll be first to receive them, beyond the initial low-cost investment of $17 there are no other fees to pay.  
My 100%, No Hassle, Full 30 Day - Money Back, Risk Free Guarantee


I personally guarantee that you will receive our highly intuitive and easy to install WP Hypersonic WordPress plugin with all the support you require including the additional featured bonuses.

But if for whatever reason you are not satisfied at anytime 30 days after your purchase let me know and I will issue a 100% no hassle refund immediately, right on the spot.


No Hassle - No Worry - No Conditions


Do yourself a favor, you've got nothing to lose here.

As a matter of fact, you are not the one taking the risk, I am. If you don't like what you see for whatever reason, just tell me and i will refund every penny that you have given me. In fact I am taking all the risk for you so you can't possibly lose, unless you pass this opportunity up, and leave your site exposed to hackers, bots and spammers...

Do remember that this isn't going to be here forever. As we are in the launch mode, we have heavily discounted our offers, which will increase accordingly very soon.

This is why I can't guarantee that the price will remain the same after our launch, or that Lifetime Upgrades bonus will be included tomorrow. It means that you really need to get it NOW. Hit the Buy Button now and get your site flying in under 5 minutes from now.

As the master developers of WP Hypersonic, we are offering Lifetime Updates for the movers and shakers who pick it up today, so your plugin will always be up-to-date.

We have the 24/7 Support Desk, and also the dedicated channels connecting you to the developers directly via Skype and email.
Break Free from the Slow Site Loading Problem
You truly CAN break free from the slow site loading problem, only minutes from now, simply by grabbing your copy of WP Hypersonic at the special price while the launch is on. Imagine how much better the experience of your visitors is going to be and how much more customers you're going to have as a result, so click on the Buy Now button to immediately receive the download, license and registration.  
Proudly Brought to You by...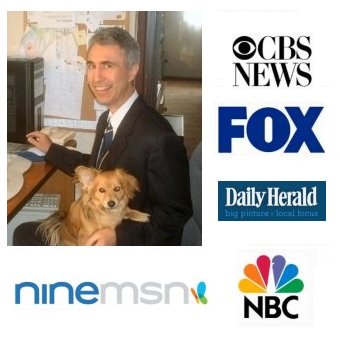 Software Engineer and CEO of C Point Pty Ltd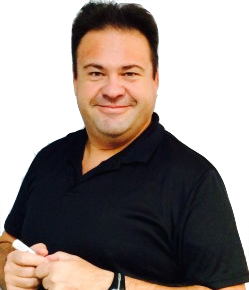 Dr Alex Davidovic has been a programmer since 1991, and possesses the wealth of experience in developing easy-to-use software with plenty of power under-the-hood that makes your life easier.

He heads the creative team of C Point master developers, which has published the software used by more than one million people world-wide, including:

- Inspire.Vision iTV, which powers the scores of Roku TV channels, and lets you manage your TV program online

- GoodNews! - the newsletter and autoresponder plugin for WordPress

- WP Master Developer, the world's best tool for creating WordPress plugins and themes

- Antechinus Animator Professional, for creating stop-motion animations and animated GIF's and banners
...and 300+ other major software projects.
Founder and CEO of Tellamate Online / Tellamate Review Marketing Solutions.

Brian Savic has held executive management roles in sales, operations and training in the top 5% of Australian companies.

In 2010, Brian left behind the cushy and rewarding 24-year career in financial services, to fully dedicate himself to helping clients grow their businesses online, via Tellamate Online and Local Marketing, and Ireveal TV Breakthrough Reviews.

Brian is an early adopter of: Roku TV Channel Creation and Google Hangout Marketing, and is the Premium Instructor on Udemy.

**************************************

"Not everyone is always going to like what you do, though it's your choice to promote the people who do"

Brian Savic
Copyright © C Point Pty Ltd. All rights reserved.