Do you need TRAFFIC in your business?
Then, If you have an eCommerce business or you're remotely interested in eCommerce, you should know that eCom and paid advertising goes hand in hand.
And interestingly, Facebook & Instagram remains the most effective way to drive tons of targeted and profitable traffic to your stores and Ecom offers.
But there's a problem…
In eCommerce, discovering what works, involves a painstaking process of testing several products and Ads.
This is why so many people struggle with Ecom, so you're not alone!
So, the easiest way to solve this problem is to spy on your competitors to see what is currently working and simply replicate it…
Unfortunately, there has never been an easy way to go about this… Until now!
But not until Postley was created. This is the latest & ultimate Facebook & Instagram traffic strategy that works.
Allows you to easily create winning posts that your audience will love and engage with,
Set automated rules to track and maximize reach and engagement of your best-performing page post and turn them into an automated traffic spinner all on Autopilot.
And to take this even further…
You can use best-performing posts and Hidden Facebook Interest to easily set, schedule, or Manage ads automatically all within the POSTLEY app.
This will allow you to spend less on ads and pay less for clicks.
This is the most proven and tested way of running successful Ads because People don't want ads, they want interaction – to be heard, to be engaged, to be listened to.
And that's exactly what Postley helps you to achieve! This is an amazing opportunity that will change the way Facebook & Instagram marketing is done forever.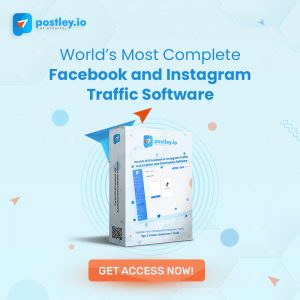 20 Incredible Features:
– Powerful Ads
– Spy Hidden Facebook Audience Finder
– Smart Ads Scheduler
– Social Post Scheduler
– Powerful Graphic Editor
– Related Interest Suggestions
– Ads Performance Tracker
– Workspace & Team Management
– 500+ DFY Templates
– Top Account Audience Finder
– Winning Audience Finder
– Post-Performance Tracker
– Multi-Language Dashboard
– Camtasia Like Free Video Editor
– Ads Campaign Creator
– Viral Hashtag Generator
– Millions Of HD Stock Videos & Images
– 500+ DFY Audiences In 50 Categories
– Caption Creator
– Social Post Creator
With the help of these 20 amazing tools, it will automatically boost your performance of your social posts and Ad campaigns.
Quick steps to get traffic instantly:
Spy – Spy on best profitable Ads.
Replicate it to create a winning post.
Create – Use In-built-Drag-n-Drop Image editor.
Social Post Creator to create a post.
Automate – Automatically track high-performing posts.
Turn those posts into Ads to get 10x Traffic as per the new FB algorithm.
Profit – Find hidden Facebook audience in any niche (not visible in FB ads manager).
Get Traffic that your competitor can only dream about. Get traffic without fail with this plan.
Postley allows you to spy on your competitors, successful eCom-preneurs & their exact stores to see what products are currently working for them and exactly how they are running their Ads.
Did you know?
Postley is available with Commercial License – You can handle unlimited client campaigns from your Postley dashboard, and Charge them a monthly or yearly fee to get good profits.
Proven and Tested!