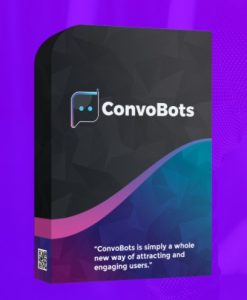 What is ConvoBots?
ConvoBots is a brand-new technology that converts boring landing pages into interactive pages using the concept of "Progressive Disclosure" that is proven to maximize engagement & get more leads & sales.
Instead of putting random content on a landing page, using ConvoBots one can engage their visitors with meaningful conversations. ConvoBots is not just limited to engage your visitors but acts effectively to generate leads in the process.
Greatly fixes this issue and helps in reducing website bounce rates, increases engagement, and gets you laser targeted leads!
It is all about maximizing the conversions on the traffic you are already getting. You don't have to spend another dime to get traffic and then struggle hard to convert that into sales.
Want to know more about what ConvoBots can do?
– Build your Subscriber list 5X faster
– Allow you to run campaigns from your or any domain.
– Take visitors by the hand (virtually) and guide them exactly where you want them to go;
– Higher lead conversions than any other tool
– Increase your lead conversions from 3%to an average of 15%
– Super Easy Set Up – Takes less than a minute
– No previous Technical knowledge Required
"- 100% Cloud-based
Platform"
And much more!
Follow these 3 steps to start getting sales and leads:
STEP 1: PICK A TEMPLATE
STEP 2: CUSTOMIZE & SET UP YOUR CONVERSATION
STEP 3: PUBLISH & START COLLECTING LEADS & SALES!
>>>You still have a chance to grab your discounts today! But hurry!