Speed up and Beautify Your Design
with Drag 'n Drop Boss Premium Templates
Professionally made and ready to use: Opt-ins, Accordions, Price Tables, Countdowns, Counters, Team Members, Testimonials, and 120+ other visual-design templates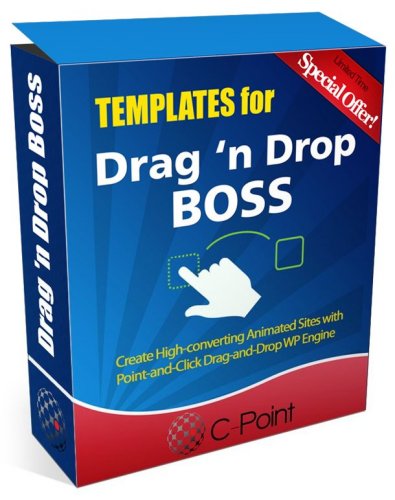 The last thing you want to do is clutter your design environment with something you do not use…
…but whenever you happen to need any of the following, you DON'T have to keep buying plugins, DON'T have to waste your time learning how to use them, DON'T have to solve compatibility problems.
Simply import the template you need in seconds, and specify its properties – through the intuitive point-and-click drag-and-drop Visual Editing.

Many of the visual design templates have multiple uses. For example, use animated opt-ins as:
Popup opt-ins: they appear after the page has finished loading, or after the specified time, or when the users scrolls the page, or when the users exits the page…
Embedded opt-ins: simply place them on a page.
On-click opt-ins: they're animated when the user clicks on a text link or an image
Want to see a small sample of what you're getting? Click on the animated opt-ins below to try them out.
SPECIAL ONE-TIME OFFER


Get LIFETIME ACCESS to the Massive Library of 120+ Profesionally Designed Premium Templates
for Drag 'n Drop Boss for the Tiny One-Time Fee of Only Cents per Template

– NO SUBSCRIPTIONS OR RECURRING FEES
– Full licensing terms are available here
– LAUNCH SPECIAL: Developer License for $35 (regular price: $67)
SINGLE SITE
Install / use on a single site