There is no shortage of WordPress newsletter plugins, but up until recently it was had to find the free autoresponder plugin to replace services such as Aweber, Mailchimp or GetResponse. Now there's a perfect solution: GoodNews!, the 100% free newsletter and autoresponder campaign manager for WordPress.
Why Look for an Alternative in the First Place?
Since services like Aweber and the like do a good job of sending your emails, is there a reason to look for an alternatives?
Yes. The 3 main reasons to seek a free alternative to services like AWeber, Mailchimp or GetResponse:
You are NOT in control.
All these paid services impose various restrictions on you. For some types of messages, you cannot even change the subject line without asking Aweber for permission, as if you were a fifth-grader. You have to jump through hoops to import your contacts into a list, combine lists or segment them.
It costs money – LOTS of money.
Paid newsletter / autoresponder services do not come cheap, and you have to keep paying month after month.
As your lists grow, you pay MORE and MORE.
Mailchimp and some of the other paid services allow you to have a tiny list for free. Then, as your list grow, they hit you with ever-increasing costs for sending emails. If you're running a non-profit organization or sell low-cost products, you'll find out that increasing your subscriber base makes the whole thing prohibitively expensive.
Luckily, WordPress is perfectly capable of sending emails. Let's introduce the 100% free newsletter and autoresponder manager for WordPress, the GoodNews! plugin.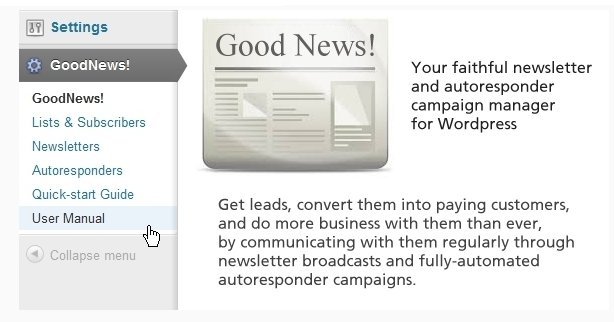 Unlimited Lists, Subscribers and Newsletters
With GoodNews! you can segment your audience into as many lists as you need, each with an unlimited number of subscribers: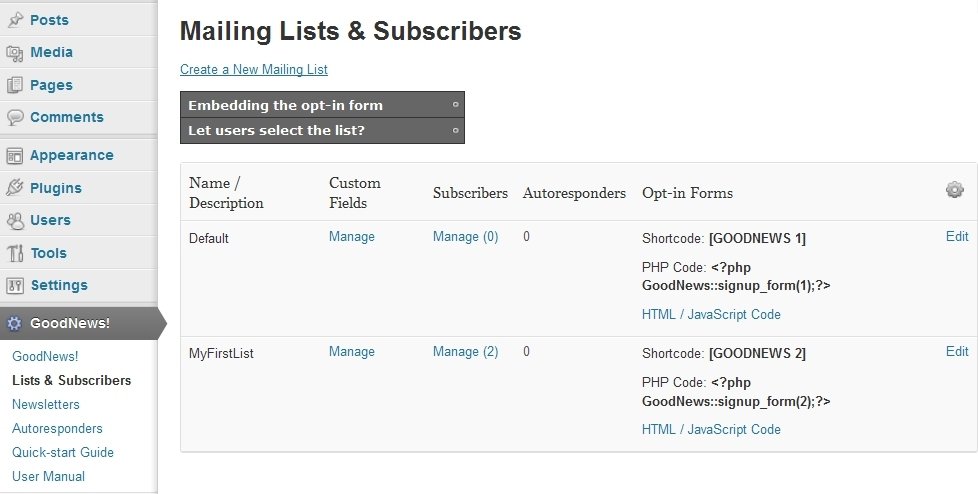 Likewise, you can compose an unlimited number of newsletters, and send them to all, or only some of your lists: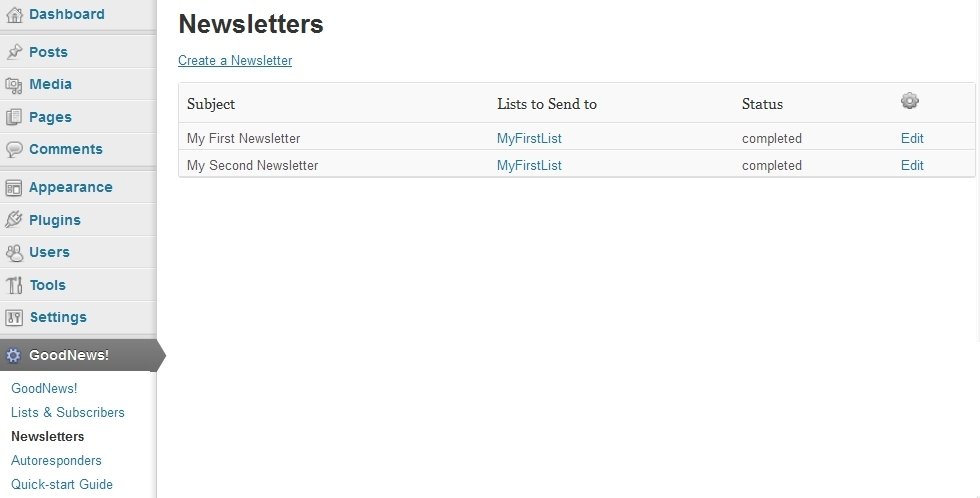 Create Unlimited Autoresponder Series
With GoodNews! creating a new autoresponder campaign takes only few seconds.
Each autoresponder campaign can have an unlimited number of messages, and apply to all or only some of your subscriber lists.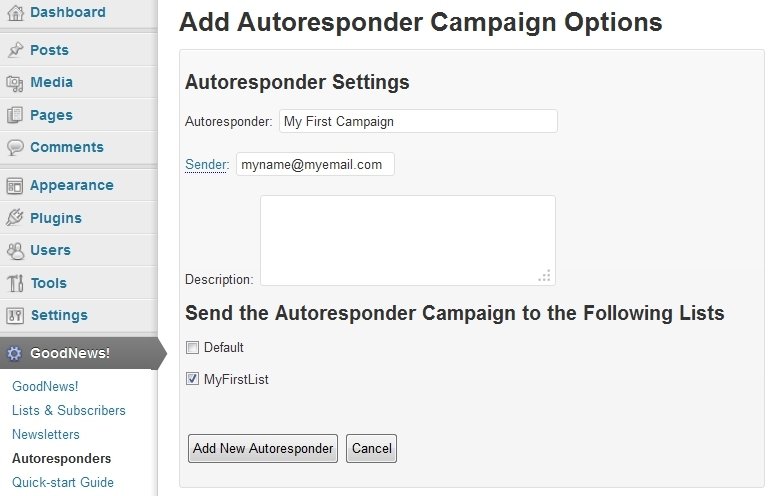 With your autoresponder campaigns in place, managing them is a breeze: add new messages, change the sending interval, etc:

Getting Started with GoodNews!
You don't have to spend a day grappling with multitudes of confusing configuration options – GoodNews! has been designed to be easy to use and configure in minutes: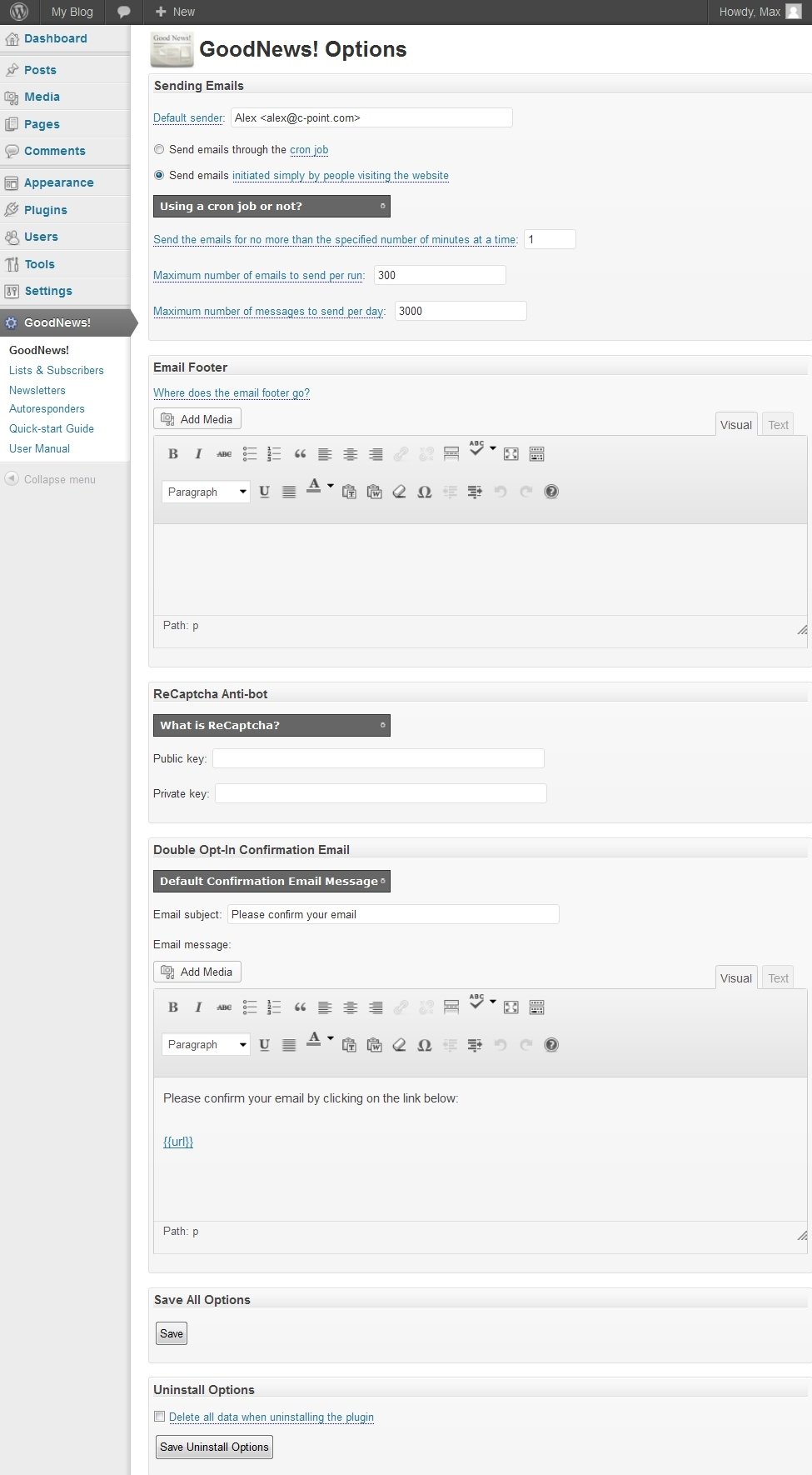 Need Custom Fields?
Standard fields (name, email…) are sufficient for most users, but if you need to introduce extra fields, nothing can be easier: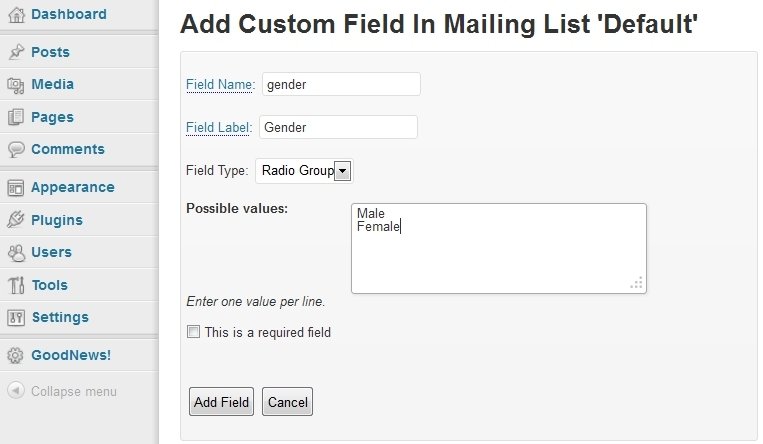 OK, GoodNews! is Intuitive, but is There a Manual?
You bet! 3 levels of help are included:
Comprehensive Manual: Everything you need to run your newsletter and autoresponder campaigns.
Quick Start for Experienced Users
Single-Click Detailed Instructions on Every GoodNews! Screen
Experienced users probably do not need any instructions to get started, but just in case, Quick Start is there to help them out: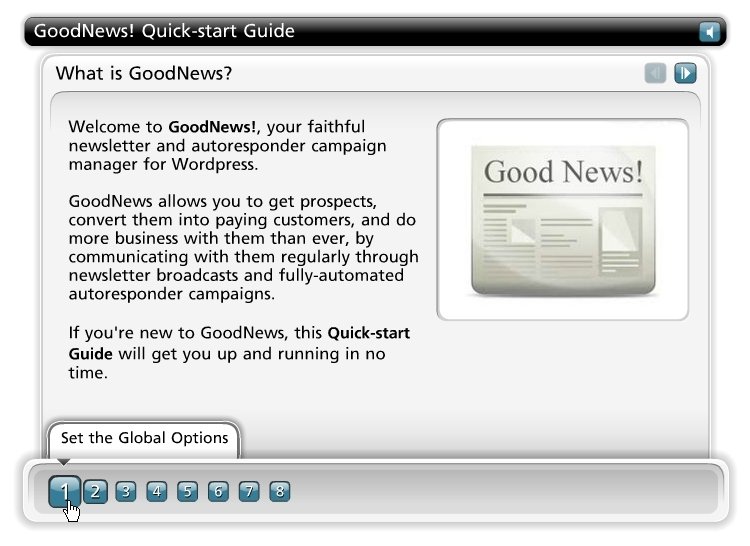 If you're in doubt regarding any of the settings, all GoodNews! screens include the unobtrusive Single-Click Detailed Instructions. They occupy the minimal amount of space until you click them, when they reveal the additional explanations and instructions: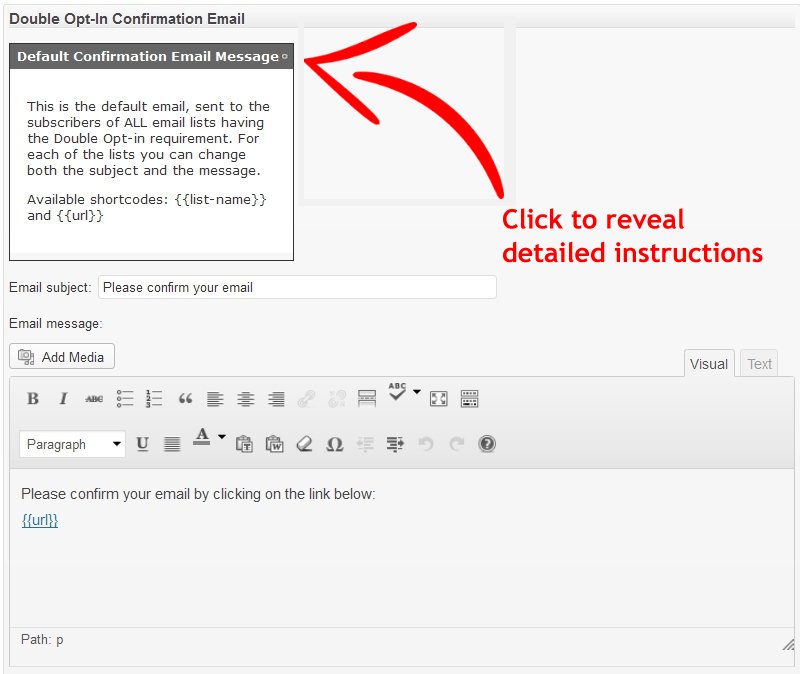 How Good is GoodNews Anyway? Is it a Hook for the 'Pro' Version?
With GoodNews there are NO upsells, cross-sells, 'Pro' versions or 'helpful' browser bars.
GoodNews is a mature and complete product.
How good is GoodNews? I'll let you be the judge of it…
…but I'd like to point out that GoodNews won the Most Wanted Contest on Envato's CodeCanyon plus $400 in cash as the reward.
CodeCanyon users awarded GoodNews the rating of 4.8 out of 5:

Is GoodNews Really Free? How do I Get it?
When you download GoodNews today, it is 100% free, no strings attached, both for commercial and non-commercial use.
If you come to this page in a week, I cannot guarantee that GoodNews will still be available at no cost – after all, keep in mind that I had to stop selling it on CodeCanyon so that I could gift it to the wider community.
When you download GoodNews! for free today, you're licensed to use it on all of your websites, commercial and non-commercial, without paying any fees for it ever. You cannot give it away or sell it, however. GoodNews remains the copyright of it's authors, Dr Alex Davidovic and the C Point team, and any unauthorized copying and distribution of this plugin is strictly forbidden.
You don't pay for GoodNews, but it requires that you register your copy:
GET GOODNEWS NOW!
Enter your name and best email below.
Enjoy!